Back to the Moon (Mass Market)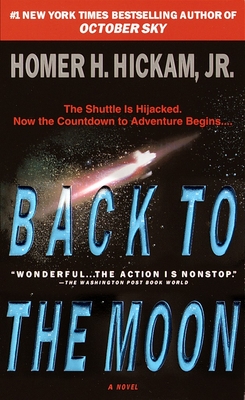 $9.99
Email or call for price
Description
---
The shuttle is hijacked. Now the countdown to adventure begins....

In his #1 New York Times bestselling memoir, October Sky, real-life NASA engineer Homer Hickam captured the excitement of America's first space ventures. Now, in this no-holds-barred joyride of a thriller, he straps us into the cockpit of the space shuttle Columbia as a renegade rocket man hijacks the shuttle—and blasts off on a Mach-speed chase into space....

Jack Medaris is a man haunted by his past and driven by a dream: He's risking everything to "borrow" the Columbia—and pilot it to the moon. He didn't plan on an unexpected passenger, beautiful celebrity daredevil and scientist Penny High Eagle. To Penny, this hijacking will test every bit of her mettle as an adventurer—and as a woman. To Jack, the mission is a personal quest—to return to the moon and bring back what America left behind, something so explosive, it could change the future of the world. Now, as the U.S. government scrambles to the chase, and as deadly forces are deployed from earth to stop them, a man and a woman find their fates inextricably entwined. And in the savage emptiness of deep space, their only hope is to join forces to reach the lunar surface. Then comes the hard part. Getting home alive.
About the Author
---
Homer H. Hickam, Jr., was born and raised in Coalwood, West Virginia. The author of Torpedo Junction, a Military History Book of the Month Club selection, as well as numerous articles for such publications as Smithsonian Air and Space and American History Illustrated, he is a NASA payload training manager for the International Space Program and lives in Huntsville, Alabama.
Praise For…
---
"Wonderful....A great adventure yarn....Danger keeps zapping at you from all sides at top-gun speed...the action is nonstop."
--The Washington Post Book World

"Escalating tension, danger and excitement."
--The New York Times Book Review