Riding on Comets: A Memoir (Paperback)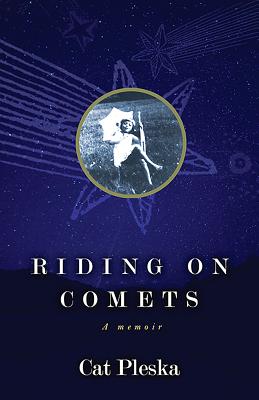 Description
---
Riding on Comets is the true story of an only child growing up in a working-class family during the 1950s and '60s. 
As the family storyteller, Cat Pleska whispers and shouts about her life growing up around savvy, strong women and hard-working, hard-drinking men. Unlike many family stories set within Appalachia, this story provides an uncommon glimpse into this region: not coal, but an aluminum plant; not hollers, but small-town America; not hillbillies, but a hard-working family with traditional values. 
From the dinner table, to the back porch, to the sprawling countryside, Cat Pleska reveals the sometimes tender, sometimes frightening education of a child who listens at the knees of these giants. She mimics and learns every nuance, every rhythm—how they laugh, smoke, cuss, fight, love, and tell stories—as she unwittingly prepares to carry their tales forward, their words and actions forever etched in her mind. And finally, she discovers a life story of her own. 
About the Author
---
Cat Pleska is a seventh generation West Virginian, and she is a writer, editor, educator, publisher, and storyteller. She holds an MFA in Creative Nonfiction from Goucher College. She is an essayist for West Virginia Public Radio and a book reviewer for the Charleston Gazette. She coedited the anthology Fed from the Blade: Tales and Poems from the Mountains. Pleska has been published in literary magazines and newspapers throughout the Appalachian region. She lives in Scott Depot, West Virginia, with her husband, Dan, one dog, four cats, and with a daughter, Katie, in nearby St. Albans. 
Praise For…
---
"In voice, in person, on the radio, on the page, Cat Pleska has for years been one of my favorite writers. I could read this writer's words forever, and still want more."
Diana Hume George, author of The Lonely Other: A Woman Watching America
"The gifts of Cat Pleska's Riding on Comets are many: it is fresh, candid, gently humorous, tautly lyrical, and deeply moving."
Lisa Knopp, What the River Carries: Encounters with the Mississippi, Missouri, and Platte
This is a storyteller who knows how to piece together shards of story into a brilliant mosaic of a life. A joy to read."
Janice Gary is the author of 
Short Leash: A Memoir of Dog Walking and Deliverance
, winner of two Silver 2014 Nautilus Awards and a 2014 Eric Hoffer Prize for Memoir.
Cat Pleska's restrained but graceful prose allows us to witness four generations through the eyes of the author, first as a child and then through the years that followed as her people live, age, and die. The details Pleska offers have the immediacy of truths well told, with a resolute eye and spacious heart, neither shying away from family and personal dysfunction, nor sentimentalizing the bonds of fear and love that held her family together."
Geoffrey Cameron Fuller is an author of the true crime 
Pretty Little Killers 
and the crime thriller 
Full Bone MoonRiding on Comets 
is pervaded with a razor-sharp honesty that brings heartfelt empathy to both the sweet and the wicked. I could not stop cheering for this spunky little girl who becomes a spirited and resourceful woman, a woman who never gives up on herself or those she loves."
Marc Harshman, Poet Laureate of West Virginia and children's book author
"Cat Pleska is a natural storyteller."
Laura Treacy Bentley, author of 
The Silver Tattoo
 and 
Lake Effect
"Image by image, each unquestionably whole and mysterious. . .tenderly sear themselves into both Cat Pleska's heart and the reader's. . .and reflect, compound, and resonate with one another until they carry us forward like a leaf swirling in the October wind."
Chris Green, Director of the Loyal Jones Appalachian Center, Berea College 
"Like stars that become constellations if we know how to look at them, this fine and engaging book shows us how to find and read the stories of our lives."
Rob Merritt, author of 
The Language of Longing